The Wave and Tidal Knowledge Network is operated by the ORE Catapult and facilitates the exchange of data and knowledge across the wave and tidal energy technologies industry, supporting researchers and developers from around the world.
http://www.waveandtidalknowledgenetwork.com/

Annex IV is a collaborative partnership among member nations of the IEA Ocean Energy Systems (OES). The purpose of Annex IV is to examine environmental effects of marine energy development. Existing data on environmental effects of wave and tidal devices are dispersed in databases and reports throughout the world. Annex IV seeks to bring together information and practitioners from OES nations to understand potential effects of marine energy devices on marine animals and habitats, and to make existing information available and accessible.
Annex IV is led by the US, with the Department of Energy (DOE) as the Operating Agent, partnered with the US Bureau of Ocean Energy Management (BOEM), the US National Oceanic and Atmospheric Administration (NOAA), and the US Federal Energy Regulatory Commission (FERC). Annex IV is implemented by Pacific Northwest National Laboratory.
http://tethys.pnnl.gov/about-annex-iv

SEACAMS (Sustainable Expansion of the Applied Coastal and Marine Sectors) is a partnership of internationally recognised marine research experts from three of the leading universities in Wales – Bangor, Swansea and Aberystwyth. SEACAMS aims to improve access for businesses in the marine and coastal sector to expertise and facilities in Higher Education. By transferring knowledge between academic and commercial components, cutting-edge research can be rapidly exploited by the commercial sector. In essence SEACAMS works with businesses to develop new ideas and solve technical problems.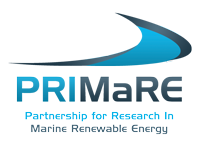 The Partnership for Research in Marine Renewable Energy (PRIMaRE) is a network of world-class research institutions based in the west, south, and south west of England who undertake research and development to address challenges facing the marine renewable energy industry at the regional, national and international level.

The Marine Alliance for Science and Technology for Scotland (MASTS) is a consortium of organisations involved in marine science and represents the majority of Scotlands marine research capacity.
Guidance to inform marine mammal site characterisation requirements at wave and tidal stream energy sites in Wales
http://www.naturalresources.wales
SEACAMS review of cetacean monitoring guidelines.
http://www.marineenergypembrokeshire.co.uk
The Crown Estate Wave and Tidal Leasing
Download Summary of Information for Habitats Regulations Assessments (PDF).